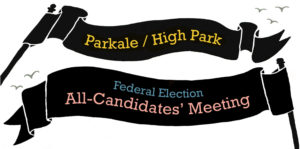 The Parkdale Residents Association (PRA) is hosting a Federal All-Candidates meeting. This is Parkdale residents' opportunity to hear directly from the candidates running  for election in the Parkdale-High Park riding. One of these candidates will be our elected representative in Federal Parliament.
FREE COMMUNITY DINNER for the event will be provided starting at 6:30 PM courtesy of Greenest City – "EAT, THINK, VOTE" campaign.
Advance Voting takes place between Oct. 11th and 14th. You can get further details HERE on where to vote, what information you need and a list of all the candidates.
To prepare for the meeting the PRA attempted to contact ALL the registered candidates. We asked them in advance of the event to consider one question – What your vision is [for the future of] of Parkdale?
Given the principals, practices and policy of diversity and inclusivity that the PRA upholds and with much consideration the PRA Executive has rescinded our invitation to the Peoples Party of Canada candidate
Date: Wednesday, Oct. 16th, 2019

Time: 6:30 p.m. – 8:30 p.m.
Place: 20 West Lodge Ave. (May Robinson auditorium)
_______________________________________________________________________
CALL FOR VOLUNTEERS
As you know a lot is happening in Parkdale around development, affordability, food security, transit, etc.
The PRA is a small but vocal voice for local residents. The PRA reviews proposed development projects, we attend meetings, advise the City as needed, advocate for residents, participate in studies, campaign for local issues, share and highlight information to the community on behalf of other organizations, etc.
We're looking for more people who want to bring their skills to the table, be passionate about advocacy and help us engage the community.
If you're interested in contributing your time and skills towards community consultations, local events and participating in planning meetings please let us know!
Right now we need volunteers for:
• All-Candidates Meeting Oct 16th: postering, community engagement, Tibetan translation services, event set-up and strike, timekeeper, Facebook live capture
• Graphic Design work: PRA logo re-design
• CRM Management
• New Executive Members: help us plan new events and initiatives for 2020