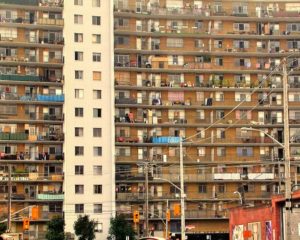 Options for new affordable housing in Parkdale
Please join us for a Panel Discussion on the options for creating new affordable housing in Parkdale.
Toronto is experiencing a housing affordability crisis. Rents are skyrocketing, pricing low and middle income people our of their communities, while home-ownership is increasingly unattainable for the majority of Torontonians.
In Parkdale and beyond residents have demanded "affordable housing now!" This begs the question what options do we have for creating more affordable housing in Parkdale?
Panelists will provide an introduction to the opportunities and challenges of some of these options including: Cooperative Housing, Affordable Home Ownership, inclusionary zoning, non-profit rental housing and Community Land Trusts.
We will also discuss possible solutions.
Speakers:
Mercedes Sharp – Parkdale People's Economy – What is affordable?
Anjala Kulasegaram – Cooperative Housing Federation of Toronto
ArtScape – Affordable Housing Ownership For Artists
Cheri DiNovo – Inclusionary Zoning – How will it create affordable housing for Parkdale
Date: Wed., March 14th, 2018

Time: 6:30 p.m. – 8:30 p.m.
Place: 20 West Lodge Avenue, May Robinson Auditorium