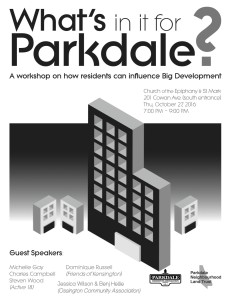 Join us for a panel discussion and workshop on the ways in which residents can influence the development process. Presented by a collaboration between the Parkdale Neighbourhood Land Trust and Parkdale Residents Association.
Big development is coming to Parkdale. In the past year, 4 large condo buildings (totaling over 900 luxury units) have been proposed in Parkdale. While residents demand affordable housing and community spaces, these projects offer zero community benefits! This begs the question: what's in it for Parkdale? How can we assure low-income and vulnerable community members are beneficiaries rather than the victims of neighbourhood development?
Speakers include community leaders from Kensington Market, Ossington and West Queen West, who have successfully fought and won community benefits for their neighbourhoods.
Guest Speakers:
Charles Campbell – Active 18 – http://www.active18.net/
Steven Wood – Active 18 – http://www.active18.net/
Jessica Wilson and Benj Hellie – Ossington Community Association – https://ossingtoncommunity.wordpress.com/
Date: Thursday, October 27th
Time: 7:00 p.m. – 9:00 pm
Place: 201 Cowan Ave. South Entrance (Church of the Epiphany & St. Mark)
RSVP: https://www.eventbrite.com/e/whats-in-it-for-parkdale-a-workshop-on-how-residents-can-influence-big-development-tickets-28507163694