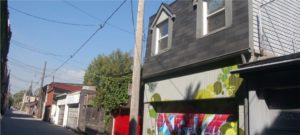 Join us at this information session to learn more about laneway housing and how it can affect Parkdale!  Speakers: Co-founder of Lanescape, Andrew Sorbara and Evergreen group will give a presentation on laneway housing with a Q&A at the end.
The City of Toronto is considering Laneway Suites (housing). A laneway house is a smaller, detached home located where the garage would normally go on a single-family lot.
Vancouver, Ottawa and Halifax already allow this type of housing. There are over 300 KM of laneways in the city. Allowing housing in our laneways would create many more rental housing units.
Sign up HERE.
Date: Tues, October 24th
Time: 6:30 p.m. – 8:00 p.m.
Place: 20 West Lodge Avenue, May Robinson Auditorium
Please read the following links and articles to help you better understand the advantages and disadvantages that laneway housing would have to our Parkdale community:
Lanescape – A laneway housing advocacy group
http://lanescape.ca/
Toronto Star – Laneway suites could open up new Toronto housing possibilities
https://www.thestar.com/…/laneway-suites-could-open-up-new-…
CBC News – Laneway housing a step closer to reality after community consultations
http://www.cbc.ca/…/metrom…/laneway-housing-report-1.4029590