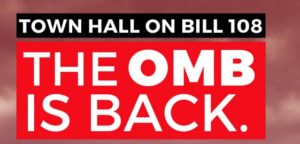 Earlier this month the Government of Ontario announced changes to planning law in Ontario under Bill 108 which affects 13 different pieces of legislation.
It reinstates the old Ontario Municipal Board (OMB), and makes other changes that will affect the City's ability to control and plan development in Toronto. Your voice is crucial.
We urge you to become informed about the implications of Doug Ford's Provincial Government's proposals as they will have an impact on your neighbourhood and our City.
READ and be informed about Bill 108.
Become informed and make your voice heard about how your neighbourhood will develop. Read the Chief Planner's report opinions here (www.toronto.ca/legdocs/mmis/2019/cc/bgrd/backgroundfile-133165.pdf) and presentation (www.toronto.ca/legdocs/mmis/2019/cc/bgrd/backgroundfile-133199.pdf) to City Council on the proposed Bill 108.
ATTEND the Meeting on Monday May 27th at 7 p.m. at City Hall to hear about the impact of these proposals from Gregg Lintern, Toronto's Chief Planner, and City Councillors, including Mike Layton our new Councillor, and Kristyn Wong-Tam our previous Councillor.
Read the City's response to the proposed legislation HERE.
When: Monday, May 27, 2019 at 7 pm
Where: Council Chambers, Toronto City Hall, 100 Queen Street West
Facebook event: https://www.facebook.com/events/309554903273831/