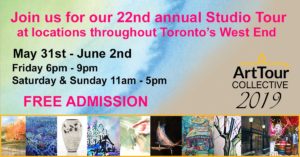 The 22nd annual ART TOUR is a showcase for some of the best art in Toronto's West End. Artists display their works at locations from Swansea to The Junction.
Admission is FREE, and art lovers have a unique opportunity to meet the artists and to see their creations.
Visitors are invited to soak up the unique atmosphere of the local community with its delightful mix of shops, cafes, bakeries and restaurants.
There is a draw for three $100 prizes to be used toward an art purchase from any artist on the Tour. Entry forms can be filled out at all the tour sites; enter at each location to increase your chances. Organizers will contact the winners three weeks after the Tour.
Click HERE for more details. Enjoy the show!