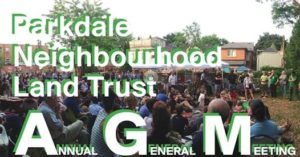 Join Parkdale Neighbourhood Land Trust (PNLT) this Saturday for the Annual General Meeting & Potluck! They've had a hugely successful year and let's all celebrate!
The AGM is an opportunity to celebrate the year's accomplishments and participate in decision making. This year members will have the opportunity to:
• Vote on PNLT's next acquisition priority.
• Vote on proposed By-law Amendment.
• Vote to elect 7-8 new members to serve on the board of directors, their decision making body.
Date: Saturday, May 25th, 2019

Time: 2:30 p.m. – 5:00 p.m.
Place:  Milky Way Garden (behind Parkdale Library) *In case of rain, Church of the Epiphany and St Mark @ 201 Cowan Ave.