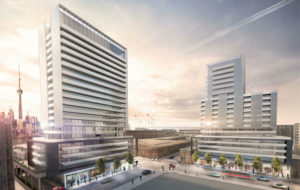 On Tuesday, April 18 Parkdale community members met with developer Lifetime Developments to discuss proposed development at King and Dufferin north-east corner and south west corner.
The meeting was attended by Parkdale residents association members, Parkdale and Liberty Village residents, Councillor Gord Perks and MP Arif Virani.
After initial consultations the developer lowered the heights of both properties from 21 to 17 stories and from 19 to 14 stories, respectively.
The developer changed the proposed appearance of the buildings from all glass to a combination of brick and glass in consideration of heritage structure around the buildings.
They have also increased the setback of the buildings from the curbs, creating wider sidewalks, and adding pedestrian walkways on both sides.
The sites will not be developed simultaneously.
However, height and density are still major issues as these buildings are high-rises.
Residents made comments regarding making Parkdale urban design better, not simply looking to copy the height and density of surrounding buildings (Dufferin and Tyndall high-rises) which the developers are using as reference points for the developments.
Transit overcrowding and traffic congestion are serious issues that have not been thus properly addressed.
There is greater need for public parking, bicycle lanes and bicycle parking as well as two and three bedroom apartments.
The design of the structures needs to be approached holistically as it fits with a changing neighbourhood.
___________________________________________________________
Many residents voiced concerns regarding affordable housing, an issue private developers do not have to address. MP Virani spoke briefly regarding federal funds for 10-year affordable housing plan.