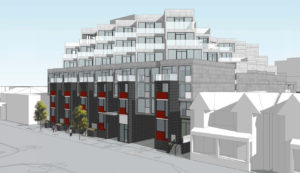 Community Consultation Meeting for  57-65 Brock Avenue – The Beer Store location.
The developer of 57-65 Brock Avenue, Brock Seaforth Developments Inc., is proposing to amend both the Official Plan and the Zoning By-law to allow for a seven-storey residential building with two levels of above-ground parking located at the rear. You can view a copy of the Preliminary Report providing background information at: http://www.toronto.ca/legdocs/mmis/2016/te/bgrd/backgroundfile-97839.pdf. Details will be available at the community meeting.
If you are unable to attend the meeting and are interested in providing comment and/or receiving more detailed information speak to the planner directly, contact Kirk Hatcher, at (416) 392-0481 or Kirk.Hatcher@toronto.ca or email Councillor Gord Perks office at councillor_perks@toronto.ca.
Date: Wednesday, February 8th
Time: 6:30 p.m. – 8:30 p.m.
Place: 1303 Queen St W. – Parkdale Library (basement auditorium)