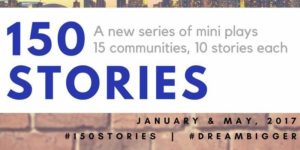 The 150 Stories Project began as Brick and Mortar Toronto's response to the current disconnect between Toronto audiences and artists.
15 groups were given the task of picking a Toronto community that does not often see itself in today's storytelling.
Each participant interviewed one person from their group's chosen community and each group then created a performance piece based on the stories heard in the interviews.
The result: 15 communities, 150 storytellers, 150 stories.
This group is, lead by Luis Fernandes, is focused on the Parkdale community
For the past 10 years, and until 2016, Luis Fernandes and the Unit 102 Actor's company owned and operated the successful Unit 102 Theatre in Parkdale. That is, until they were forced out several months ago by development in the very neighbourhood they helped to grow. While they search for a new location for their company, Luis chose to focus on the community and find out just exactly what stories are hidden within.
Order tickets here and use discount code "PARKDALE" to get $15 OFF
Date: Friday, February 3rs
Time: 7:00 p.m. – 8:00 p.m. – Doors open 6:30 p.m.
Place: 1402 Queen Street East, #c3 (The Attic Arts Hub)