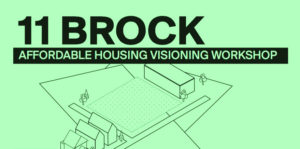 11 Brock Ave. (ex-LCBO) is City-Owned land that is going to become affordable housing. The Parkdale Neighbourhood Land Trust (PNLT) is gathering recommendations from residents on what type of affordable housing should be built. The focus of the conversation will be on the needs of senior housing, supportive housing and affordable family housing.
Speakers from the community will talk about recent planning initiatives and share stories of living in Parkdale. Residents will have a chance to discuss what type of affordable housing they would like to see in the community Parkdale.
Join the conversation!
Please register here or at the door.
Date: Thursday, February 9th
Time: 7:00 p.m. – 9:00 p.m., doors open at 6:30pm
Place: 20 West Lodge Ave. – May Robinson Auditorium