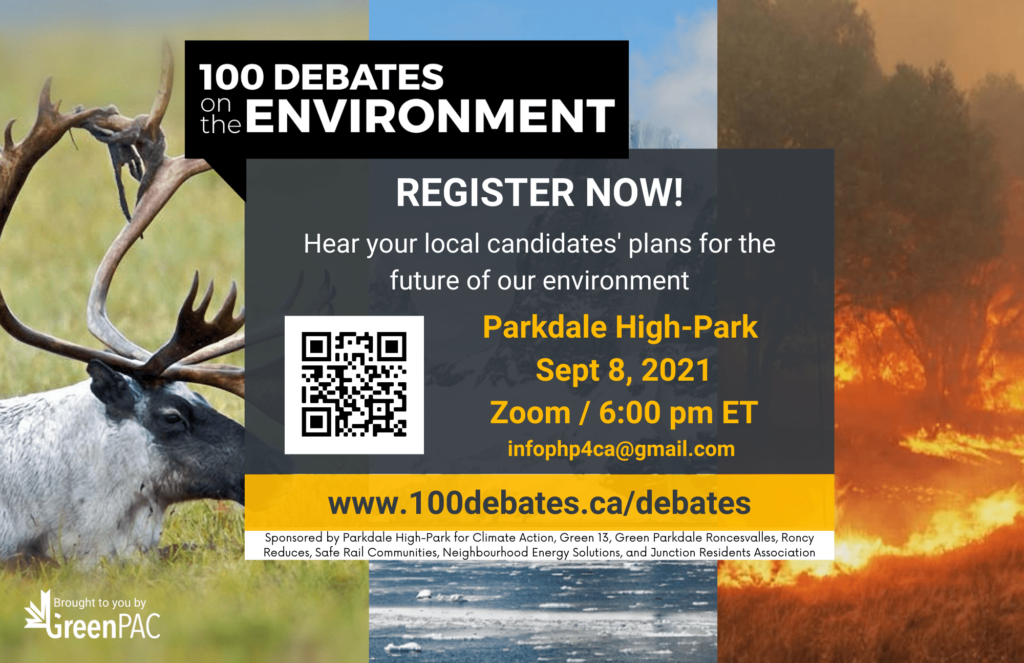 The people of Parkdale-High Park care deeply about the environment. Hear where our federal candidates stand on these pressing issues leading up to the federal election.
Please join GreenPac, Parkdale High-Park for Climate Action, Green13, Green Parkdale Roncesvalles, Roncy Reduces, Safe Rail Communities, the Junction Residents Association and Neighbourhood Energy Solutions for an all-candidates debate on the environment.
Wednesday, September 8, 2021 
6 PM to 8 PM
Please register on Eventbrite: https://www.eventbrite.ca/e/parkdale-high-park-100-debates-on-the-environment-tickets-168466512875
Candidates:
Paul Taylor (New Democratic Party) 
Arif Virani (Liberal Party)
Diem Marchand-Lafortune (Green Party) 
Nestor Sanajko (Conservative Party) 
Thank you!
The PHP 100 Debates on the Environment Organizing Team
This event is sponsored by Vancity Community Investment Bank