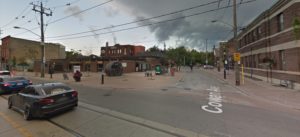 Get involved and learn more about your community!
The intersection of Queen Street West and Cowan Avenue is home to an important cluster of City facilities and community services, including the Masaryk-Cowan Community Centre, Parkdale Library, and Parkdale Arts & Cultural Centre. City staff are currently exploring the potential to enhance programming and service delivery spaces for the Parkdale community. Join us to learn more about the project and provide input on the conceptual design options for these sites.
Over the past year the Parkdale Residents Association, Parkdale Neighbourhood Land Trust and Parkdale People's Economy have led an information gathering and community discussions – "On Community Hubs".
To access the PRA-led USER survey results for this import intersection click HERE.
Your comments are important in guiding the next steps in the Parkdale Community Hub project. See you at the meeting!
Date: Monday, June 10th, 2019

Time: 6:00 p.m. – 8:30 p.m.
Place:  250 Dunn Ave. (Bonar-Parkdale Presbyterian Church) Friendship Hall