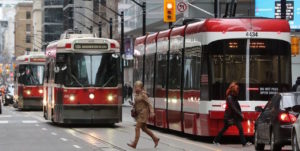 King Street is the busiest surface route in the city, moving over 70,000 passengers per day before the pilot project. Taking transit on King street was unpredictable and stress inducing. It was often faster to walk than take the streetcar.
The King Street Pilot was introduced in November 2017 to address these issues by restricting through traffic and left turns at most intersections to prioritize transit vehicles between Bathurst and Jarvis St, the most congested part of the street.
Residents, commuters, and businesses along the corridor have called the King Street Pilot "transformational" and look forward to working with the City to improve it.
The future of the King Street Pilot will be decided by City Council in the next three weeks. Do want them to make it permanent and make it even better?
Show your support at weloveking.ca