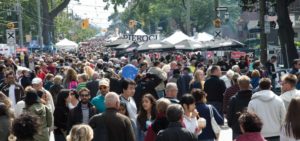 The 2018 Roncesvalles Polish Festival, North America's largest celebration of Polish culture in one of Toronto's best neighbourhoods, Roncesvalles Village! Just steps from Parkdale.
Enjoy great local and international music, including Polish folklore, Polka and Euro dance bands, and entertainment from near and far on multiple stages. Saturday night enjoy the ever-popular Dance Under The Stars. Come out and sample fantastic cuisine from over 40 renowned restaurants, cafes, bakeries, and bistros, along Roncesvalles, and of course, lots of traditional Polish fare, including pierogi, kielbasa, bigos, cabbage rolls, and much much more!
This year will be celebrating 100 years of Poland's Independence!
Date: Saturday & Sunday, September 15th & 16th, 2018
Time: Sat. 11:00 a.m. – 11:00 p.m. & Sun. 11:00 a.m. – 7:00 p.m.
Place: for 18-blocks along Roncesvalles Ave.