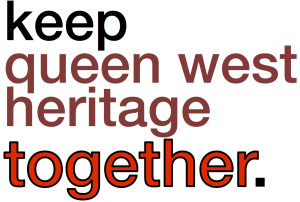 We are all proud that Queen Street West is world-famous for its continuous, unbroken heritage character.
But developers are eyeing it for: high-rise, big box and chain retail. And today, Bathurst to Roncesvalles has no protection.
Fortunately, city planners are designing a "heritage conservation district" (HCD)- the strongest law to protect from over-development. But their first draft has big carve-outs. They exclude Jameson-to-Roncesvalles, and Dufferin-to-Shaw. True Queen Street West heritage: 200– Victorians – CAMH park – buildings like the Ocean View Hotel and the Great Hall. And that still lets the unbroken Queen Street West heritage get – broken (The City page for the HCD is here).
Let our Councillors + city planning know to keep Queen West together – the heritage conservation district is for all of Queen Street West.
Write Gord Perks, Ana Bailao, Mike Layton and City Planning @ our auto-email page – (includes talking points).
Parkdale Residents Association supports the efforts of  the collective voice of the West Side Community Council – westsidecc.ca.
Read the WSCC response to the WQW Heritage Study report HERE.
Deadline for your comments is Tuesday, Dec. 20th