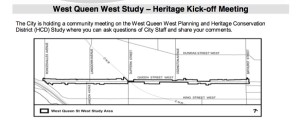 Here is your opportunity to have a say in how Queen Street West develops on into the future. Come out and give your ideas and imagination voice.
This Community Consultation meeting will present the findings from the built form & character analysis and heritage evaluation as well as the draft recommendations of the West Queen West HCD Study. The Study reviewed the policy context, built-form and heritage value of the properties on Queen Street West between Bathurst Street and Roncesvalles Avenue.
The Study involved public consultations to clarify what defines the street character and to develop a community vision for the future. Transit capacity and parking supply were also reviewed.
The evening will begin with an Open House from 6:30-7:00pm, followed by an update by City Staff on the WQW Heritage Study. FGMDA Architects with MMM Group and ASI Inc. will then give a presentation followed by a discussion facilitated by the project team. This is where you can ask questions and share your comments prior to the final report.
Date: Tuesday, November 29th
Time: 6:30 p.m. – Open House,
7:00 p.m. – Presentation and Facilitated Discussion
Place: 1115 Queen St W. – The Theatre Centre