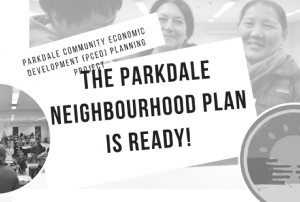 Come learn more about how gentrification is impacting affordability and diversity in Parkdale; 7 key Parkdale wellbeing indicators; and 37 directions for community action!
In the last 18 months the Parkdale Community Economic Development (PCED) gathered community members, agency staff, friends, academics and you. Together through the PCED planning project they've built a vision for Parkdale that emphasizes four overarching values: Inclusiveness, Affordability, Diversity and Equity. The risk of untamed gentrification in the area puts these values at risk.
Please join in celebration as they share The Parkdale Neighbourhood Plan – a new story for Parkdale that offers strategies and actions to protect our shared values and promotes collective action, equitable development, participatory democracy, decent work, food security and shared wealth building.
Date: Saturday, October 29th
Time: 1:30 p.m. – 4:00 pm
Place: 250 Dunn Ave. (Bonar-Parkdale Presbyterian Church)
RSVP: https://www.eventbrite.com/e/parkdale-neighbourhood-plan-launch-tickets-28538453282