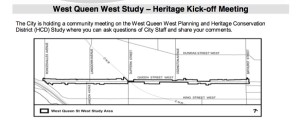 The West Queen West Planning Study is underway. City Planning staff are reviewing the policy context, built-form and heritage value of the properties on Queen Street West between Bathurst Street and Roncesvalles Avenue.
The Planning Study involves public consultations to clarify what defines the street character and to develop a community vision for the future. Transit capacity and parking supply are also being reviewed.
The City staff will be available if you would like to ask questions. They also want to hear your ideas, input, and comments on these matters.
The evening will begin with an Open House from 6:30-7:00pm, followed by an update by City Staff on the WQW Planning Study. FGMDA Architects, will then give a presentation followed by a discussion facilitated by the project team.
Here is  a link to the PRA study done in 2015 re West Queen West Planning Study.
https://drive.google.com/file/d/0B_zsy9u2NfwPZ2dwNkFBbXdUeG8/view
Date: Thursday, June 23rd
Time: 6:30 p.m. – Open House,
7:00 p.m. – Presentation and Facilitated Discussion
Place: 1115 Queen St W. – The Theatre Centre