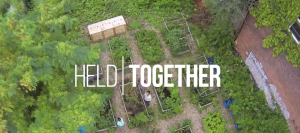 The Parkdale Neighbourhood Land Trust (PNLT) is purchasing its very first piece of community owned land in Parkdale!
As Catherine Porter announced in her Friday Toronto Star column "generosity blooms in Parkdale" and PNLT has secured a partial land donation from activist filmmaker John Greyson! Now they need your help to complete the deal and make the Milky Way Garden a community owned asset!
Join with other community members on June 4th in the Milky Way Garden for an outdoor community potluck, donor drive and screening of Avi Lewis and Naomi Klein's film about climate change This Changes Everything. FREE & ALL AGES.
PNLT & Greenest City have launched a fundraising campaign to raise 25k from the community and supporters. A short donor drive will be held at 8pm to support the acquisition of the Milky Way Garden. We encourage charitable donations in the form of cash, check, credit or debit. You can donate in person or online at: www.milkywaygarden.ca
Date: Saturday, June  4nth
Time: 7:00 p.m. – Community Potluck, 8 p.m. – Donor Drive, 9 p.m. – Film Screening of "This Changes Everything" – Introduced by Avi Lewis
Place: 87 Milky Way lane (behind Parkdale Library)