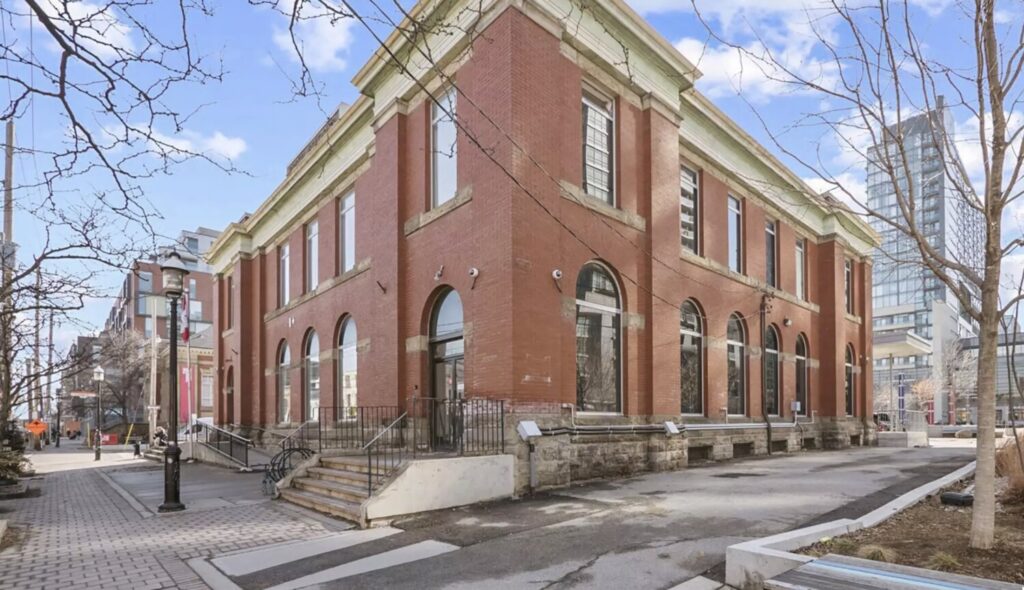 The 1117 Queen West Neighbourhood Survey is available for circulation. Please share with your neighbours and groups.
We want to hear your vision for 1117 Queen St W, Lisgar Park and our neighbourhood. The historic Postal Station C at 1117 Queen Street West has been sold by Canada Post and the new owner is proposing to redevelop the building. In one proposal, the owner has offered to make space available for community use in the building in exchange for more height. This version of the new owner's plan suggests a contribution of (approximately) 1.5 storeys of community space in exchange for a 29-storey building.
The current 2-storey building was built in 1902 and the exterior remains in its original form, except for the back porch/loading dock. Both floors are large open spaces with high ceilings and plenty of natural light.
A small group of local advocates formed the West Queen West Community Post (WQWCP) – and have acted as stewards for the building since its sale was announced in the summer of 2021. This group of volunteers recently succeeded in getting the property designated by the City of Toronto under the Ontario Heritage Act.
WQWCP has put this survey together to engage the community and garner sentiment on a number of issues involving the building itself, Lisgar Park, West Queen West and our wider city.
We'd love to get your opinions about the future of the building and our neighbourhood. We're looking to surface a collective vision!
The survey should only take a few minutes. You don't need to answer every question, but the more you share with us the more nuanced our conversations can be with the building owner, City Councillor, and City Planning staff.
Note: survey participants will need to provide their email address in confidence
URL link http://tiny.cc/1117survey