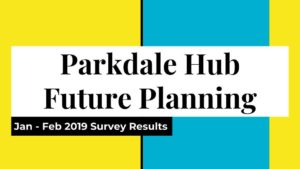 Thank you to all who participated in the Parkdale Hub Future Planning Survey

Between January and February we received 183 survey responses! The survey is still open and we are actively seeking more feedback from community members – HERE.
Parkdale Neighbourhood Land Trust, Parkdale People's Economy, and Parkdale Residents Association are now working together to organize resident workshops and information sessions around the Hub.
This update will:
Share a summary of the survey results we received in January and February.
                                 SEE A SUMMARY OF THE RESPONSES
Inform you of an upcoming free Speakers Series about community hub planning. – HERE