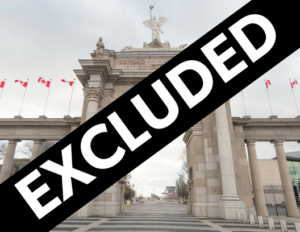 Exhibition Place is 192 acres of City-owned lakeside land, whose historical mandate was for public parks and exhibition grounds, and Ontario Place comprises another 155 acres of Province-owned lakeside land and water. Toronto, desperate for public green space, could sure take advantage of these already-owned lands.
But recently, under-the-radar initiatives have been operating to put these public lands in private hands.
In 2006, most of Exhibition Place was converted from 'Parks and Open Space' lands to 'Regeneration' lands, encouraging private development and allowing leases of longer than 21 years.
And in 2010, a memorandum of agreement between the City and the Exhibition Place Board of Governors directed the Board to 'maximize revenue from all sources'; and similarly for Ontario Place.
A community group—the West Side Community Council, comprising ten community associations—has launched a public education and advocacy campaign to call on local government to act immediately to stop the effective privatization of these lands, and rather direct resources to fulfilling the potential of these lands as public and community parkland assets.
Find out more at www.EXcluded.ca, a website dedicated to raising awareness about this issue.
The campaign will be launching at the Princes' Gates on August 17th at 10am.