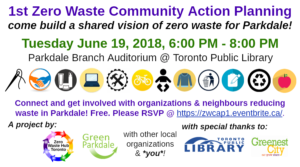 The 1st Zero Waste Community Action Planning session will help build a shared vision of zero waste for Parkdale.
Here are some of the topics:
Community Sharing & Creative Reuse
e-Waste, Repair & Cycling
Ecoparents
Ecofashion & Household Goods
Community Cleanups
Communications: Outreach, Education & Advocacy
Food: gleaning, growing, planning, prep, compost & MORE!
Connect and get involved with neighbours and organizations in reducing waste in Parkdale. To register click HERE or call 647-438-0038 (Greenest City).
Date: Tuesday, June 19th, 2018

Time: 6:00 p.m. – 8:00 p.m.
Place: 1303 Queen St. W., (Parkdale Library auditorium)