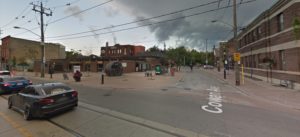 The City is hosting a community information meeting on the Parkdale Community Hub (AKA Parkdale Town Square) project where you can learn about this initiative, ask questions of City Staff, and share your comments.
The intersection of Queen Street West and Cowan Avenue is home to an important cluster of City facilities and community services that support the local Parkdale community.
At this meeting, City staff will introduce the Parkdale Community Hub project, provide an overview of their work and consultation to-date, present a set of principles to guide any changes to the intersection, and give a brief update on area planning and heritage work. Your comments are important in guiding the next steps in the Parkdale Community Hub project.
Date: Wednesday, May 16th, 2018

Time: 6:00 p.m. – 8:00 p.m.
Place: 1303 Queen St. W., (Parkdale Library auditorium)