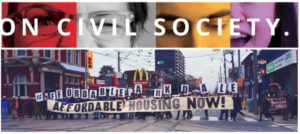 (dis)Placed in Parkdale: Gentrification & Community
Saturday, May 5th
12:00 PM to 2:00 PM: Jane's Walk – Meet at Parkdale Project Read (1209 King St. W.) Join the Parkdale Neighbourhood Land Trust in learning how to preserve, protect and build a just, healthy and inclusive neighbourhood. See Parkdale through the eyes of divers residents and organizations in pursuit of equitable development. Speakers will share stories of building participatory strategies in response to pressures of displacement. Glimpse the future of a site of conflict and of community empowerment through Augmented Reality technology present by the Canadian Film Centre.
12:00 PM to 2:30 PM: Break and Gallery Tour – Parkdale Library (1303 Queen St. W.)
2:30 PM to 5:00 PM: Public Panel Discussion – Democratizing the Economy in Toronto  – with Mercedes Sharpe Zayas (Parkdale People's Economy; Cutty Duncan (formerly Social Planning Toronto); Wayne Chu (City of Toronto); Katharine Ranking (University of Toronto). Parkdale Library (1303 Queen St. W.)
Light refreshments, childcare and Tibetan translation provided during the public panel.