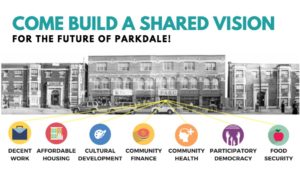 Parkdale People's Economy will be hosting a community meeting at PARC.
The meeting is a chance for community members to get involved in one of their seven different Working Groups and help advance the Parkdale Community Plan.
Join your neighbours and local community organizations to advance neighbourhood planning in Parkdale!
Work together to build a healthy and just neighbourhood
Share your thoughts and expertise about your community
Learn more about working groups, resident grants, and
community activities happening in Parkdale
Free food, childcare, and translation services!
TTC tickets will be provided upon request.
Please RSVP to mzayas@parc.on.ca and specify if you
require any special accommodations.
Date: Monday, April 30th, 2018

Time: 6:00 p.m. – 8:00 p.m.
Place: 1499 Queen St. W., (PARC)