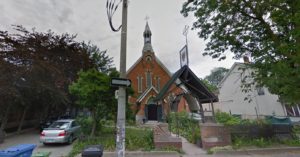 A new program, providing 24 hour services for women experiencing homelessness who need warm and safe refuge from Toronto's winter weather opens in Parkdale at the Church of the Epiphany and St. Mark's, 201 Cowan Avenue, just south of Queen St West.
You are invited to a Community Open House to welcome the program, meet staff and ask any questions you may have.
Donations or volunteers to the program are welcome. Please contact Stewart King, Program Manager, directly at stewart_king@can.salvationarmy.org,  647-302-5752.
Date: Thursday, Jan. 11, 2018
Time: 6:00 pm – 8:00 pm
Place: 201 Cowan Avenue, south of Queen St West (Sanctuary Space, Church of Epiphany and St. Mark's)