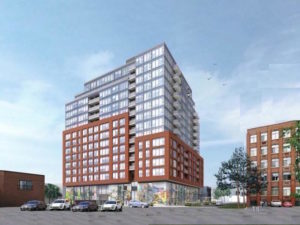 The developer of 6 Noble St. originally proposed a 14-storey mixed-use building comprised of commercial space located on portions of the first and second floors, 174 residential units, and two levels of underground parking.
As you might know, the developer appealed their application to the Ontario Municipal Board (OMB). A pre-hearing conference has been scheduled for Tuesday, December 12th at 10 AM.   The purpose of the pre-hearing is to identify anyone who wishes to attend at the OMB Hearing, either as a party or as a participant, in opposition to or in support of the application.  If you have concerns with the development proposal, your involvement at this stage of the process is important.
City Planning staff and the developer have also continued to work to find a suitable proposal for the site.  The 'without prejudice' discussions between City staff and the developer allows for exploration of possible changes that might result in an agreement without offers or counter offers being made public. I am not involved in these discussions.
City Legal were informed that the developer will be making a revised 'with prejudice' settlement offer very soon. A 'with prejudice' settlement offer will be a public document. If available, it will be shared at the December 12th pre-hearing.
It is the Councillor's practice to share details of any 'with prejudice' settlement offer prior to it being considered by City Council either through email or, if time permits, at a community meeting.
At this time, the developer has agreed not to seek a Hearing date at the pre-hearing conference. Instead, they will seek a second pre-hearing in April, 2018 which could be converted into a settlement hearing if a settlement is reached.
It is important that anyone with an interest in this matter attend the OMB pre-hearing on Tuesday Dec 12th, notwithstanding the fact that no Hearing date is to be scheduled. This will allow community members to be made parties or participants and be a part of any proceeding should a settlement fail to occur.
For more information please contract Councillor Perks office – Meri.Newton@toronto.ca.
Date: December 12th
Time: 10:00 AM
Place: OMB, 16th Floor, 655 Bay Street (2 blocks north of Dundas St. W.)