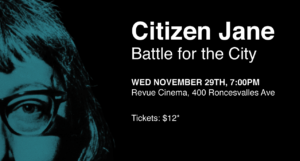 Jane Jacobs has inspired more than one generation to take action in defence of the neighbourhoods they value.  See the origin story of the activist who later came to Toronto and whose work here is honored every year in scores of Jane's Walks.
Citizen Jane: Battle for the City will be screened on Wednesday, November 29th at 7:00 PM at the Revue Cinema, 400 Roncesvalles
You can view the Citizen Jane trailer here
A portion of the proceeds benefit the High Park Community Alliance, which faces an OMB hearing over proposals to add six new towers and 1700 units to a two-block area that is already one of Toronto's most densely populated neighbourhoods.
To buy tickets online for this exciting community event, please click on the link below:
https://citizenjanehpca.eventbrite.ca
Tickets will also be available at the door the evening of the event.
Look forward to seeing you there!
www.highparkcommunityalliance.com