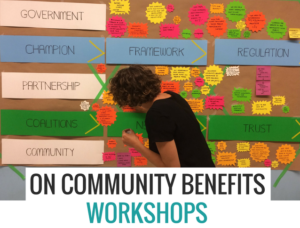 The Parkdale Community Economic Development (PCED) is hosting a series of Community Benefits Workshops for Parkdale on Wednesday August 30th and Thursday September 7th*.
Come learn about new developments arriving in Parkdale, discuss how they will impact the neighbourhood, and collectively develop ideas for how these developments can be best leveraged to benefit our community.
Building on workshops held earlier this summer with ESL students and the PARC Ambassador and Co-op Cred program, these workshops will provide a platform for community members to express their thoughts and suggestions on how to ensure that new developments in Parkdale benefit the local community and strengthen its four overarching values: Inclusiveness, Affordability, Diversity and Equity. The workshops will help to establish a set of community demands that developers must adhere to when building in Parkdale.
Food and refreshments will be provided. Please note that the library is wheelchair accessible. Contact mzayas@parc.on.ca for childcare and/or translation needs.
Spaces are limited. RSVP encouraged but not required: https://parkdale-community-benefits-workshops.eventbrite.ca
*Please note that these workshops are identical and participants need only sign up for one workshop.
Date: Wednesday, Aug. 30th
Time: 6:00 p.m. – 8:00 p.m.
Place: 1303 Queen St W. – Parkdale Library (basement)
Date: Thursday, Sept.. 7th
Time: 6:00 p.m. – 8:00 p.m.
Place: 1303 Queen St W. – Parkdale Library (basement)