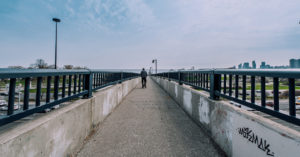 The STEPS Initiative, in cooperation with Street Art Toronto, will be hosting a community information session to provide local community members and stakeholders with some information about the project, artist, design, and opportunities for engagement.
This International cultural exchange will host one of Chicago's most prominent street artists – JUSTUS ROE – to create an energetic and engaging abstract piece across the length of the pedestrian bridge to Sunnyside beach. http://stepsinitiative.com/
Come out and shape your neighbourhood!
Date: Monday, June 12th
Time: 6:00 p.m. – 7:00 p.m.
Place: 1303 Queen St W. – Parkdale Library (basement)
Can't make the info session? Check them out at Roncy Rocks on June 17th