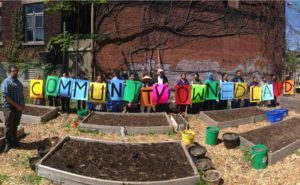 What: Greenest City & Parkdale Neighbourhood Land Trust (PNLT) will host a series of community consultations to collect input from local residents in order to redesign 87 Milky Way into a shared urban agriculture space for Parkdale. Planners and designers will use that input to create both an urban design and business plan for the space.
Visioning Workshop – Participants will be guided through a visioning process to capture needs, wants, and dreams, as they relate to the redesign on 87 Milky Way into a community space for urban agriculture.
Why/Background: The Milky Way Garden is a 7000 sq ft green space in our Parkdale neighbourhood (behind Parkdale Library). The land has been stewarded by a local ESL class and GC for nearly a decade, but until recently this was a temporary agreement with the private owners of the land. The PNLT will soon purchase this land, to secure a dedicated urban agriculture space for Parkdale. This piece of community owned land will continue to be used for urban agriculture activities, but will be redesigned to reflect the needs and desires of local residents.
Who should attend: Parkdale Residents, members of Greenest City and members of PNLT.
Tibetan translation provided. Please contact the organizers for additional translation needs. If you have questions please email monique@greenestcity.ca or call 647.438.0038
Date: Monday, March 13th
Time: 6:00 p.m. – 8:00 p.m.
Place: 1303 Queen St W. – Parkdale Library (basement)