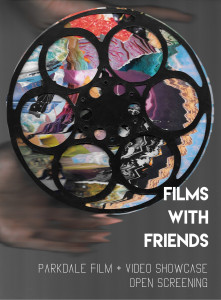 The Parkdale Film + Video Showcase is excited to announce their open screening 'Films with Friends' is happening July 16th at The Tenant Cafe! This is a non-juried showcase co-presented by Toronto Open Screenings with support from Making Room. It'll be an excellent chance to show your work in a great community space with wonderful people!
Thanks to the sponsors' generous donations, they'll be doing a raffle with tons of prizes from local Parkdale vendors and community organizations! There will also be food and drinks, with $4 beer, cider, and wine.
Share your work!
– first come, first shown
– any work: new, old, or in-progress!
– complete work or excerpts
– ten minutes & under
– no cost for admission
Formats accepted:
Nearly all digital video file formats, VHS & Beta (by request), DVD, BluRay, Super8, Regular 8, 16MM. Something not listed? Email info@parkdaleshowcase.ca to let us know what you need.
Date: Saturday, July 16th
Time: 6:00 p.m. – 11:00 pm
Place: 1267 Queen St. West – The Tenant Cafe
Schedule:
6pm // Doors and signup
7pm // Screening
8pm // Intermission and raffle draw
9pm // Dance party with Toronto DJ Michael Kushnir
Come on out and celebrate Parkdale!
Visit www.parkdaleshowcase.ca for more information
RSVP on their Facebook page here.