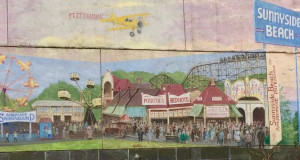 Join one of the many Jane's walks taking place across Toronto.
Of interest in Ward 14 are:
Take a Walk on the Sunnyside
Sunnyside Amusement Park was bigger than NYCs Coney Island in its day. It drew thousands of holidaymakers. What happened and why?
May 7th, 10:00 AM
Meet at Beaty Ave. Parkette – south side of King St.
The Tibetan Experience in Gentrifying Parkdale
Organized by the Parkdale Neighbourhood Land Trust, this walk focuses on the Tibentan experience and response to gentrification in Parkdale.
May 7th, 1:00 PM
Meet at Cowan Ave. and Queen St., PNLT table
Let's Walk Together
This walk is for Residents and Visitors of the Parkdale Community and is dedicated to the refugees and refugee supporters.
May 7th, 1:00 PM
Meet at Romero House, 1558 Bloor St. West
Multisensory Tour
A well-designed place doesn't just look good; it feels good to the senses. Come discover Toronto's multi-sensory spaces.
May 8th, 9:30 AM
Meet at north east corner of Dufferin & Queen