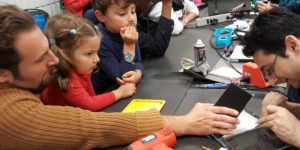 The Parkdale Free School is proud to host a troubleshooting workshop by Repair Café Toronto:
Have you ever wondered why your toaster or DVD player just stopped working? Don't know where to begin? Come to this free troubleshooting workshop and learn some simple steps to solving the mystery of broken stuff. Troubleshooting is a method for determining what caused your electrical or electronic equipment (or almost anything) to break.
This workshop will go through the logical process step by step. Bring a broken home appliance or some broken home electronic equipment to practice the troubleshooting method. If you can't fix it then and there you will know why it isn't working and if it can be fixed.
Register HERE for this FREE event or drop by.
Date: Tuesday, Nov. 13th, 2018

Time: 6:00 p.m. – 8:00 p.m.
Place: 1499 Queen St W – 2nd Floor (PARC)