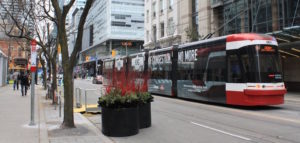 Do you live, work, or travel on King Street?
Please join TTC Riders on Monday, November 26 at 7 PM for One Year In: The King Street Pilot!  
This open meeting is an opportunity to share your experience of the King Street Pilot after one year since its implementation in November 2017. Together they will look at what the data shows about the pilot's success and engage in a facilitated discussion about the transit priority project's implementation and impact on our public space and day-to-day life.
Register at this link to reserve your spot for this FREE event or at the email below!
Light snacks and refreshments will be served and the event space is wheelchair accessible. Do you have any other accessibility needs? Please get in touch with anna@ttcriders.ca and they will do their best to meet them.
Date: Monday, Nov. 26th, 2018

Time: 7:00 p.m. – 9:00 p.m.
Place: 55 John Street, Room 308/309 (Metro Hall)