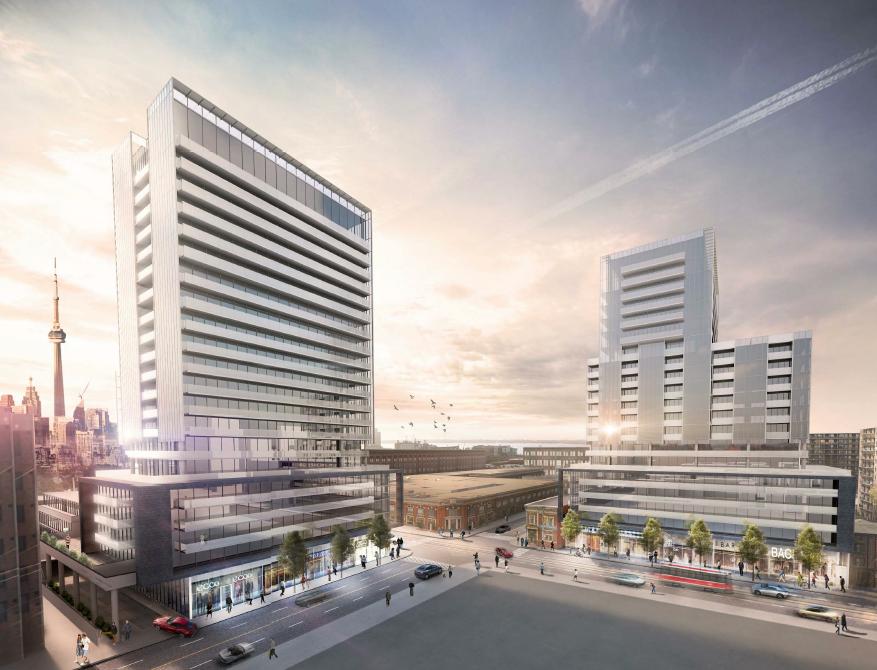 Lifetime Developments, is proposing to develop 2-sites kitty-corner to each other at the intersection of Dufferin Street and King Street West. The City is holding a Community Consultation meeting where you can learn more about this application, ask questions and share your comments.
The proposed rezoning application is to permit two residential buildings at the intersection of King Street West and Dufferin Street.  The proposed development at 1182 King St. W. is 17-storeys (located on the north east corner site) and at 1221 King St. W. is 14-storeys (located just past the southwest corner – west of BMO bank building).  Both buildings would have commercial uses on the ground floor, 3 levels of underground parking. (This is a reduction from previous presented proposal which was 21 and 19 stories.)
To speak to the planner directly, contact Michelle Knieriem, City Planner, michelle.knieriem@toronto.ca.  You may also mail your comments to the planner at Toronto and East York District, 100 Queen St W Floor 18 E Toronto On, M5H 2N2. You can view a copy of the Preliminary Report providing background information at:  http://www.toronto.ca/legdocs/mmis/2015/te/bgrd/backgroundfile-85118.pdf.
Questions: what is the current CIty approved height & density, will both sites be developed simultaneously, public parking, open green space, square footage of street level retail shops, Section 37 charges, historic Metallic Roofing Company building, add your own.
Date: Tuesday, April 18th
Time: 7:00 p.m. – 9:00 p.m.
Place: 141 Close Avenue – Holy Family Catholic School – Gymnasium