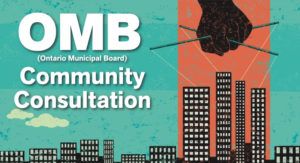 Cheri DiNovo, our MPP, will be holding a community consultation on the future of Toronto's relationship to the Ontario Municipal Board (OMB).
Torontonians deserve a real say about the future of our neighbourhoods and what they look like. But too often, the unelected and unaccountable Ontario Municipal Board makes important decisions that affect our communities.
The Ontario government is currently reviewing the OMB and needs to hear from residents. Please share this event with your neighbours and networks.
This free event is accessible and open to everyone. Please register at: http://cheridinovo.ca/omb-town-hall/
Date: Thursday, March 9th
Time: 7:00 p.m. – 9:00 p.m.
Place: 1515 Bloor Street West (Bishop Marrocco/Thomas Merton Catholic Secondary School )