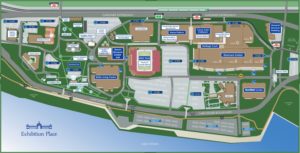 The City of Toronto, City Planning Division, is undertaking a Cultural Heritage Landscape Assessment of the land and buildings at Exhibition Place. This is an assessment of whether the interaction of humans and the natural environment on a geographic location has resulted in an identified cultural heritage value or interest by a community.
To speak to the planner directly, contact Nathaniel Baker, at (416) 338- 2073 or nathaniel.baker@toronto.ca or alternatively John Duncan, at (416) 392-1530 or john.duncan@toronot.ca. You may mail your comments to the planner at Toronto and East York District, 100 Queen St W Floor 18 E Toronto On, M5H 2N2.
You may also contact Councillor Mike Layton, Ward 19, at (416) 392- 4009 by email at Councillor_layton@toronto.ca. Or Councillor Joe Cressy, Ward 20, at (416) 392-4044 by email at Councillor_cressy@toronto.ca
Make your opinions known about how you feel Exhibition Place lands should be managed and maintained for today and into the future.
Date: Wednesday, Nov. 28th, 2018

Time: 6:30 p.m. – 8:00 p.m.
Place: 100 Princes' Blvd., Salon 103 (Enercare Centre)