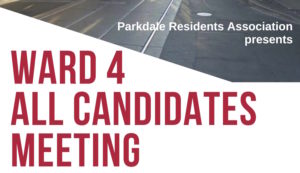 The Parkdale Residents Association (PRA) is hosting a Municipal All-Candidates meeting. This is Parkdale residents' opportunity to hear directly from the candidates running  for election in the NEW Ward 4 Parkdale-High Park. One of these candidates will be our elected representative in Toronto City Council.
To prepare for the meeting the PRA attempted to contact ALL the registered candidates. We asked them for a head-shot, bio and to answer one question – What your vision is [for the future] of Parkdale?
Six of the ten candidates responded. Please click on the individual's name for their response – Kalsang Dolma, David Ginsberg, Taras Kulish, Mercy Okalowe, Gord Perks and José Vera. To see a full list of the candidates running in this election for Mayor, Councillor and School Board Trustee(s) click HERE. Continue the conversation with your neighbours – #parkdalevotes2018.

Advance Voting takes place between Oct. 10th and 14th. In our area you can go to 220 Cowan Ave. (Masaryk-Cowan Community Centre, Activity Room 1) or 100 Queen St. W. (City Hall, Rotunda) – 10:00 AM to 7:00 PM.
Date: Wednesday, Oct. 17th, 2018

Time: 6:30 p.m. – 8:30 p.m.
Place: 20 West Lodge Ave. (May Robinson auditorium)